This is the third installment in my Lillian West x The Espresso Edition partnership.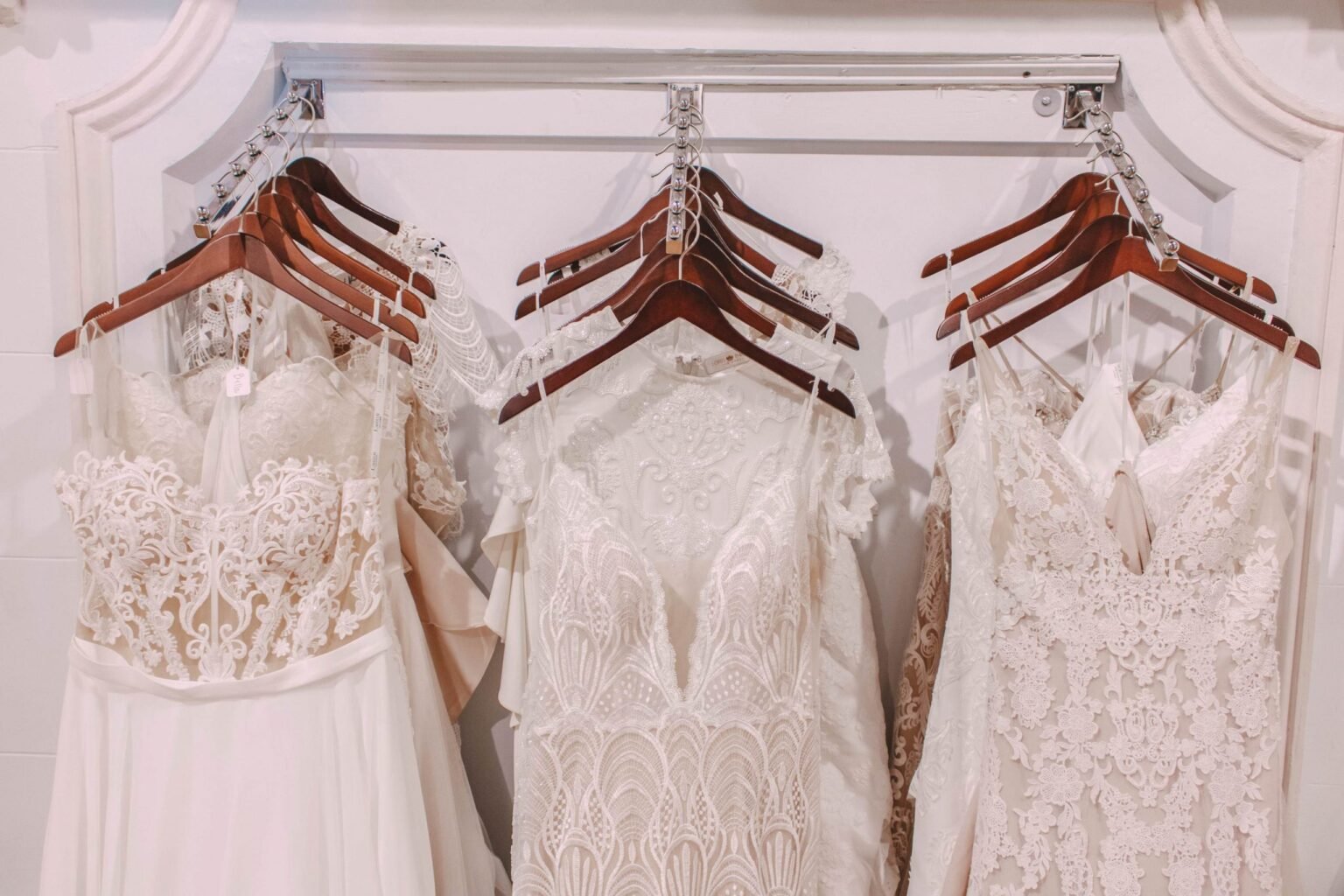 The final countdown has begun! When this post is published, I'll be just a couple days shy of two months from "I do!" Time has flown, and it's not long until I get to reveal my wedding gown!
Yes yes, the moment you've all been waiting for. It's not here quite yet, but it won't be long! Until then, I want to cater to the wedding dress-obsessed (like myself) by sharing what went into picking my own gown, and (if you're a bride-to-be) key things to look for when you're searching for your own. That being said, I'm going to include some never-before-seen photos of the gowns that didn't make the cut. They're all stunning beyond belief, but there was only one that I couldn't bear to part with.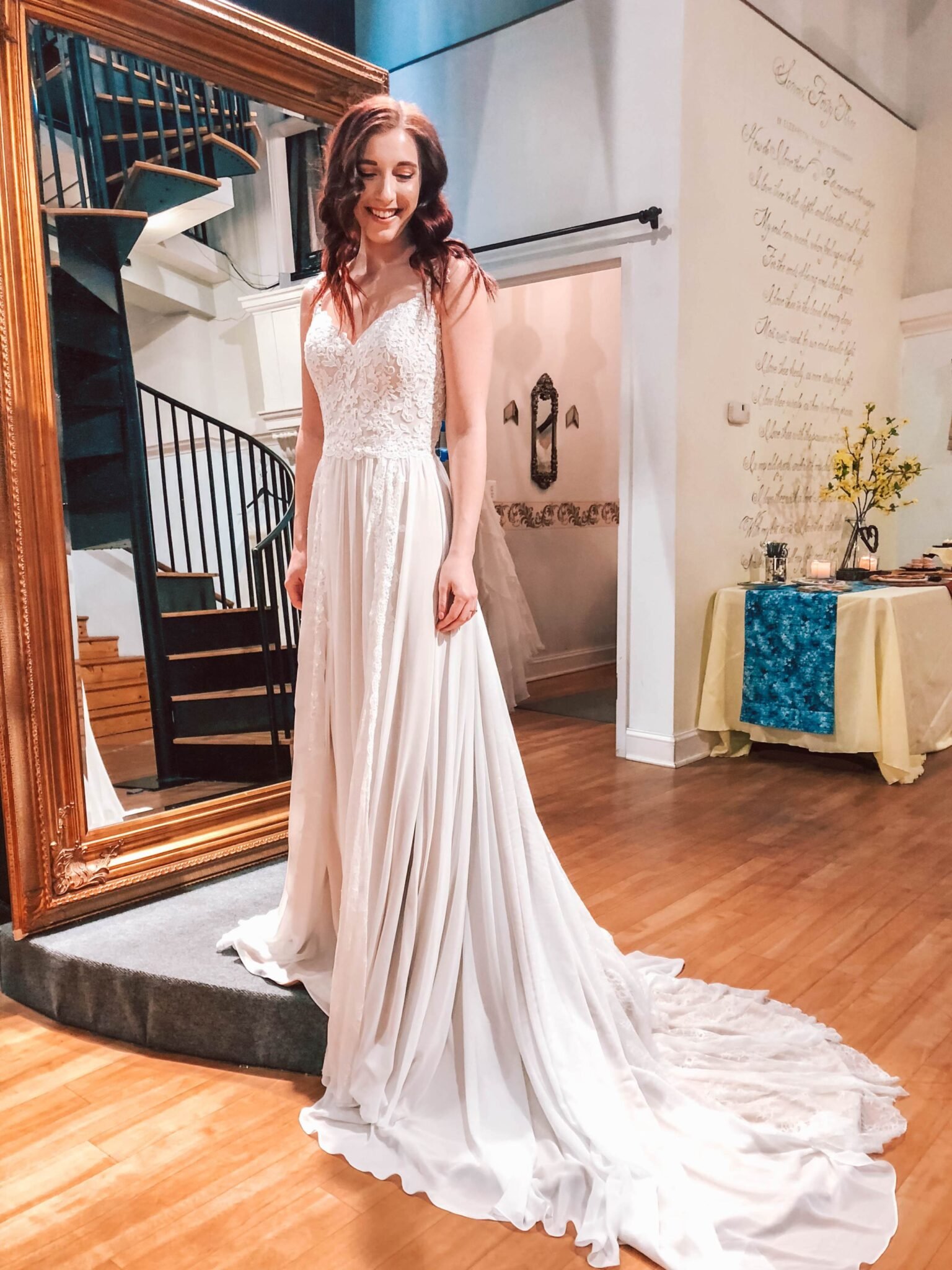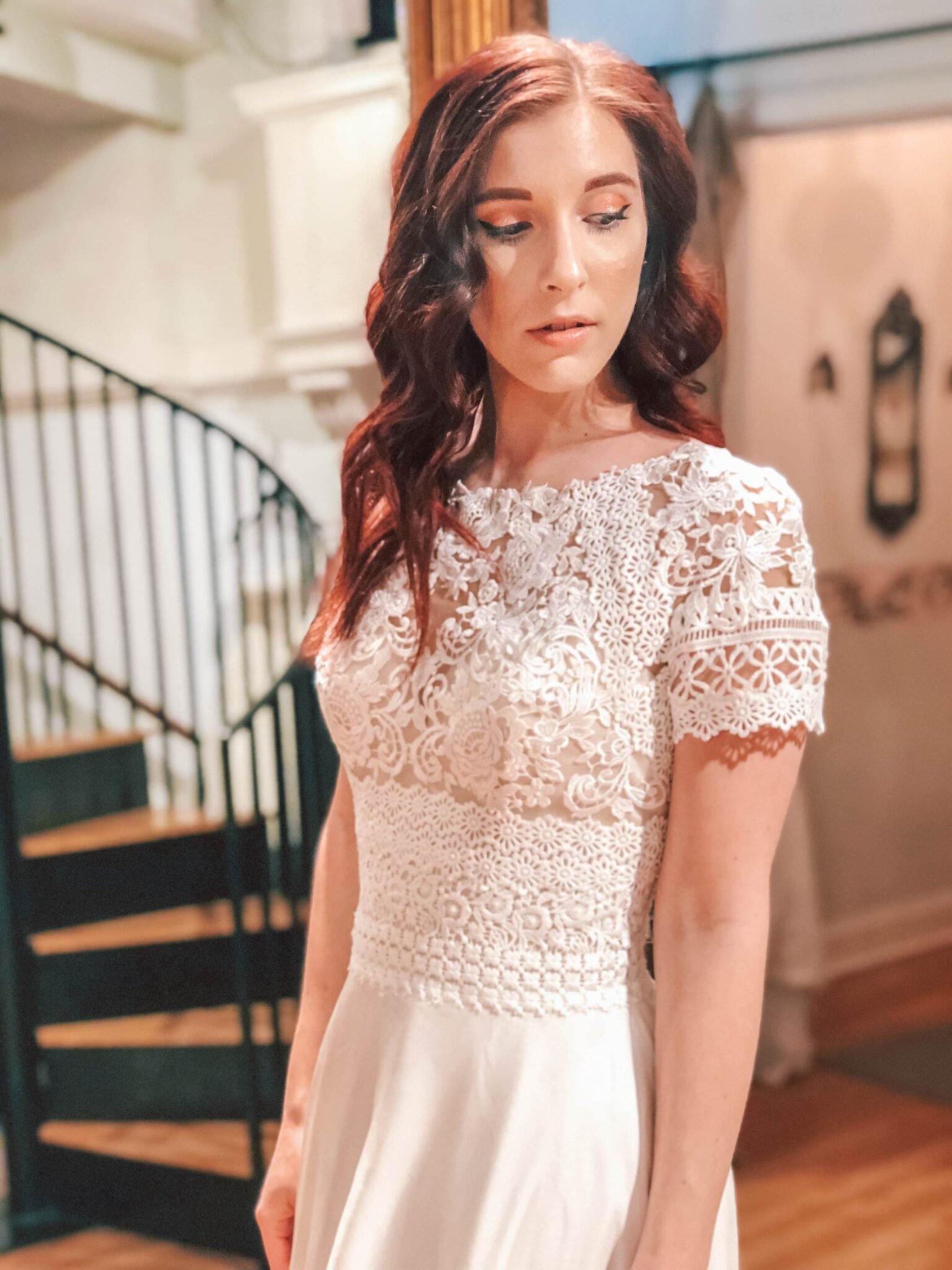 I went into dress shopping knowing bohemian was the style for me.
After years of pinning (my dress board on Pinterest was created when I was around fifteen), I had narrowed my selection down to a few favorite styles: bohemian, lace, ruffles, and off-white. I didn't want a mermaid style, nor did I want strapless. I knew that ballgowns weren't my thing, and stark white was so not my color.
I wanted my dress to be ethereal and simple, yet bold – making the statement "I'm feminine and fierce, with flowers blooming in my soul."
So I turned to Lillian West. A designer collection of luxury brand Justin Alexander, this wedding dress designer showcases many dreamy gowns – all boasting a bohemian flair. And they certainly did not disappoint. If you haven't read about my princess experience at Ava Laurénne, you should do that now. Lillian West was kind enough to send over my top ten favorite dresses from their website to try on for myself. It was a truly magical, one-of-a-kind experience that I will never forget. And I found my girl in an instant.
You think I'm kidding! Before I even got to the dress shop, I had labeled one of the ten gowns as my absolute favorite. It was the first gown I tried on, and the one I went home with. Sure, it was a few hours of trying on other gowns and narrowing it down, but I knew she was the one for me. She had just the right amount of lace, ruffles, and she wasn't bright white. Now that beautiful dress is hanging in my closet – and I'll admit I've tried it on more than once since my final alteration appointment. It's just too tempting to resist!
Before you head out to your first appointment, take the time to create a moodboard or Pinterest board of your favorite styles of dresses. After looking through your picks, determine the repeated trends. Do you prefer a sweetheart neckline? Maybe you want a long train. Whatever you're feeling, make sure you try on dresses that include those characteristics. This is going to be your statement and you'll savor the moments in your dress for the rest of your life.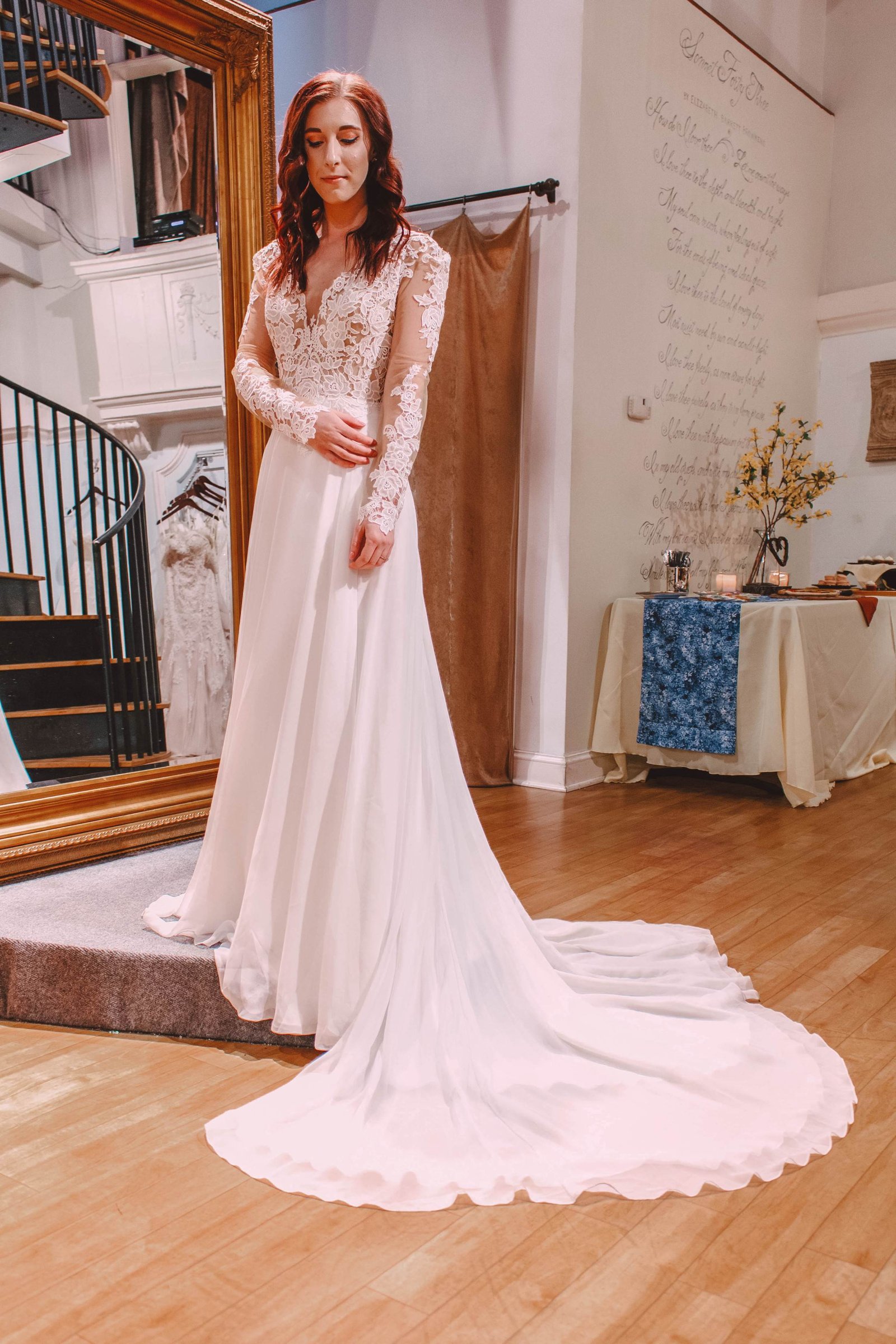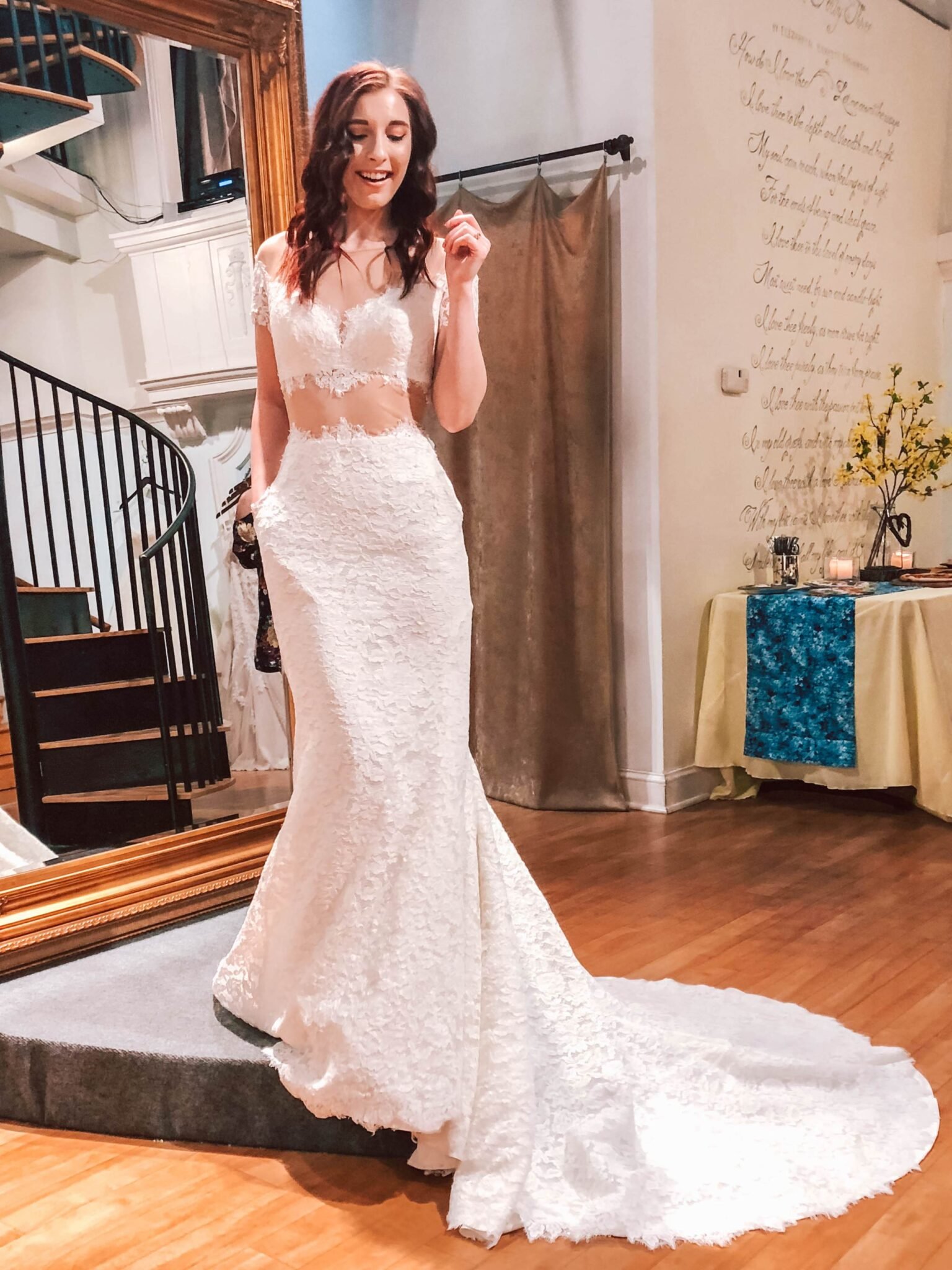 Below is a moodboard I created, including Lillian West gowns that I absolutely adore – some of which I even tried on!
What kind of statement would your wedding gown make?