This post is in partnership with Virginia Ashley Photography. As always, all opinions are my own. Thank you for supporting those who support The Espresso Edition.
PSA: this post is very photo-heavy because I couldn't pick just a couple of favorites. I love them all!
This is a pretty special week! Want to know why? Tomorrow marks one year of being engaged to the love of my life. Friday is our three-year dating anniversary, and Saturday is exactly three months until our wedding! Whew – what a week, am I right? It's cause for so much celebration, I thought it was the perfect time to share our summer engagement photos!
We partnered up with Virginia Ashley Photography to take these dreamy golden hour pics, and I'm thrilled to announce she will be photographing our wedding as well! If you're in the Richmond area (and beyond – she travels), definitely make sure to check her out! She's so much fun to shoot with, has the dreamiest style of photography, and does everything from maternity photos to boudoir and beyond!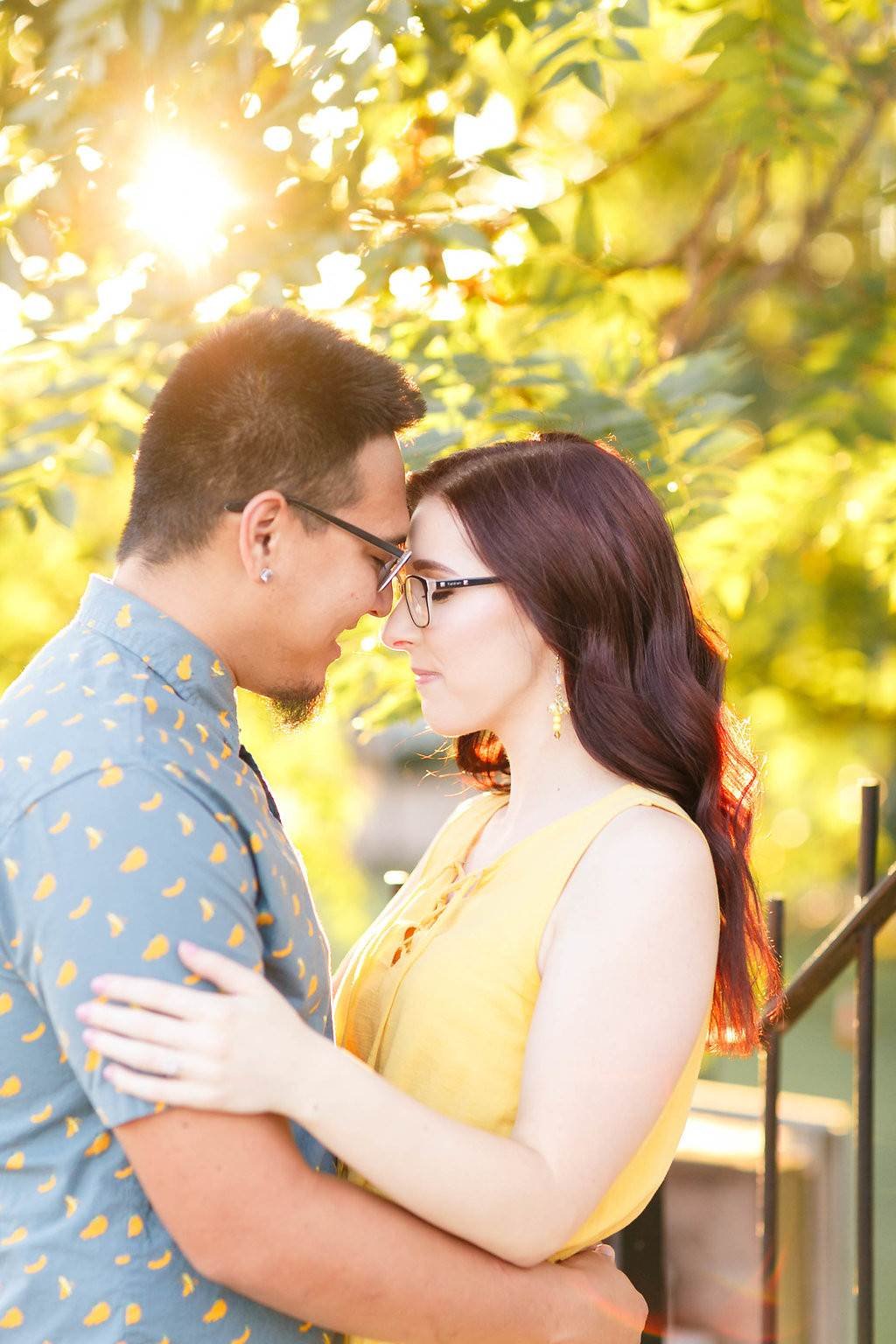 If you've been reading this blog for a little while, you may remember me sharing my engagement story – and maybe even snippets about how Brandon and I met and began dating! It's been quite some time since I really talked about how cute we are. Kidding, but not really. 😉 I thought today was the perfect opportunity to give you the low-down on us! Here's our love story in a nutshell.
Brandon and I met at a wedding in May of 2015! Yep, we are that cheesy couple who found love in the most romantic setting possible. It was basically like a chick flick come to life.
Oh, I forgot to mention – said wedding was in Georgia, but Brandon lived in Florida and I lived in Virginia. I pretty much assumed it would be some harmless tipsy flirting at the reception and nothing more, but by the end of the night, we'd friended one another on Facebook and started to really get to know each other.
It gets better! My family was going on vacation after the wedding – thirty minutes from where Brandon lived in Florida! Knowing we'd be so close by, he actually asked me out … but I said no! (Okay, in my defense, I'd just gone through a terrible break-up – so cut me some slack)! 😂
However, he didn't give up. We kept texting and getting to know each other even after my family went back home to VA. It wasn't long before he told me he was interested in more than just a texting friendship – and asked to come visit me!
In August of 2015, B took a bus ride – yep you read that right: BUS RIDE. This boy dealt with a gross bus trip up the East Coast to visit me and take me on our first date. We got donuts and went to a comic shop, by the way. Best date ever.
From that moment on, we knew it was meant to be. When he left to go back to Florida, I think my heart went right along with him. For the next year, we were in a long distance relationship – and that's right folks, it is possible to have a wonderful LDR! It takes a crazy amount of work, tons of communication, and an equal amount of respect and love from both sides. However, I wouldn't have traded that time for the world, because it grew us as a couple and as individuals. We're stronger now because of it!
After a year of being long distance, we said "Enough! We want to live in the same city, gosh darnit," and Brandon took a massive leap by moving to Virginia to be with me. It was exhilarating to finally be in the same place and spend so much time together.
Brandon got a job at a local fitness club, started taking my blog photos, and after yet another year of our relationship – took things to the next level. We got engaged in August of 2017! You can read the entire story here – and I promise, it's one of the cutest engagement stories you'll ever hear.
2018 has been full of wedding planning, moving forward in our careers (Brandon got a new job, I celebrated three years of blogging, and we continue to inspire and support each other), and preparing for this new chapter together! I can't wait to marry my very best friend!
Wow! Now that I've written all this, I'm feeling utterly in love all over again, and looking forward to celebrating all of this romantic goodness over the rest of the week and these following months!