This post is in partnership with Basic Invite.  As always, all opinions are my own. Thank you for supporting the companies that support The Espresso Edition.
We did it! We finally chose our wedding invitations!
After searching long and hard, reading a ton of reviews, and browsing styling options, I decided that Basic Invite was the way to go. I'm so glad that I chose them! To be quite honest, I had no clue where to start when it came to invitations.  Should I go with something modern and trendy?  Classic and elegant?  Maybe they should flow with our bohemian wedding theme?
Thankfully, Basic Invite has over 800 wedding invitation set options – but that's not all they offer! I chose not to order save-the-dates, but they have some stunning designs for those as well!  They also have guest books, programs, and even thank-you cards!  What I loved the most?  I could choose all the fonts and colors, add in my own photos (see our engagement photos here), and if I wasn't 100% sure about a design, I could order a custom sample to see it in person!
In the end, I decided to go with a more timeless invitation style.  I didn't want to look back in 20 years and be disappointed that I chose something that was way too trendy.  Basic Invite made it really easy to narrow down designs and find something that suited us perfectly!
Let me walk you through my process:
Firstly, I needed to choose whether or not to have a design that included pictures.  A lot of invitations are purely font and no photo, but I wanted a chance to show off the beautiful engagement photos we took.  I was excited to find this design which offered enough room for all our information on the front, but also allowed for a photo on the back!
Next, I played with fonts and colors.  This was the fun part! It was so easy to move things around and truly customize this template to my heart's content.  I even browsed a couple other invitation designs to gain inspiration!
I knew I didn't want to hand-letter all of our invitations, and thankfully, Basic Invite can do all the work for you! They offer a way to import your guest list and then place all the addresses on the envelopes – free of charge!  Since I had already added all the guest information to my WeddingWire account, all I had to do was export it to my computer and then upload it on the Basic Invite website.  This process was so simple and saved me so much time!
 In all, I would highly recommend Basic Invite for wedding invitations, baby announcements, stationary, business cards, and more!  Just look at how beautiful our invites turned out!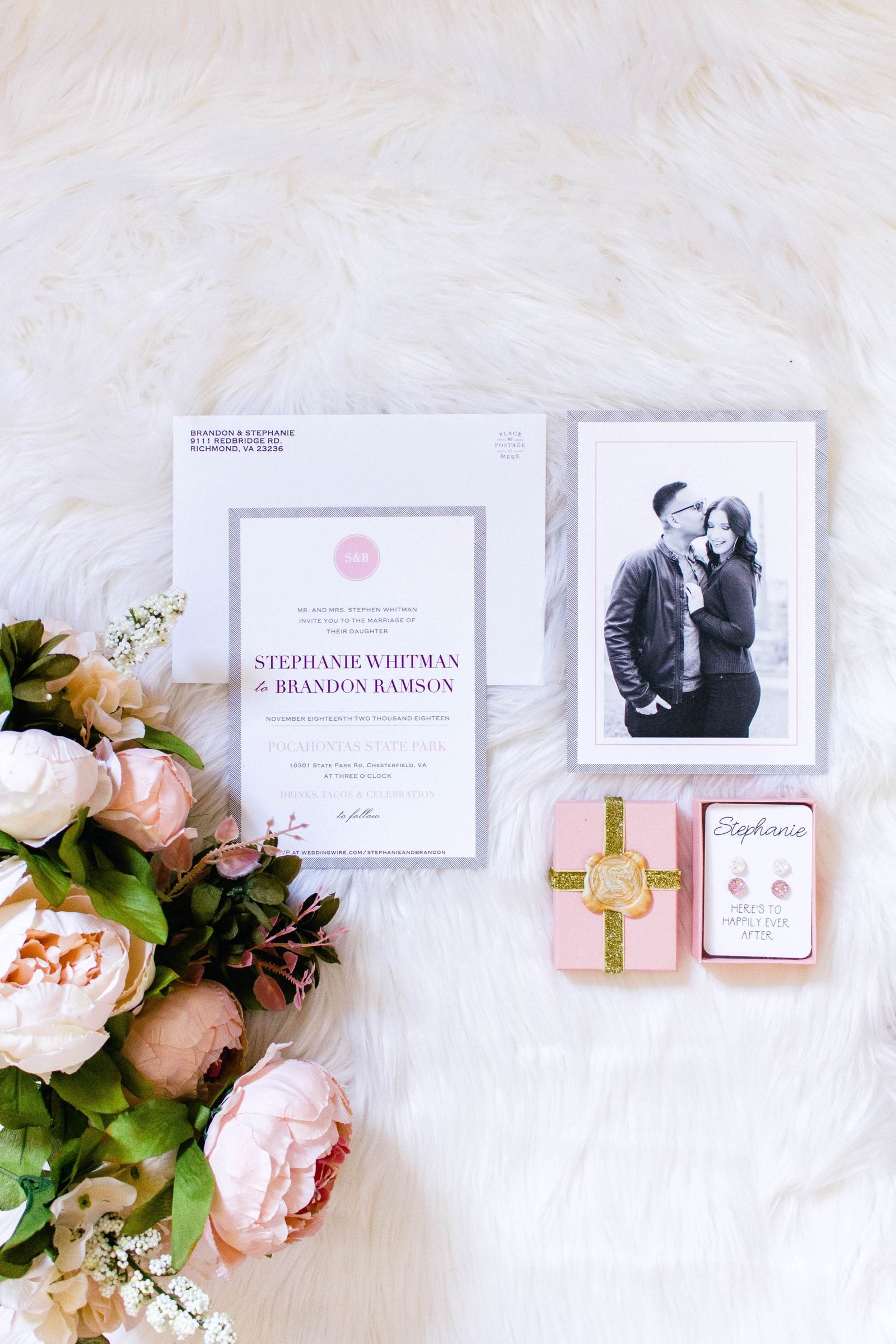 If you're a bride-to-be or a wifey, tell me where you got your invitations from!