This post is in partnership with Revival Rugs who very kindly compensated this restored vintage rug for our master bedroom. As always, all opinions are my own. Thank you for supporting the companies that support The Espresso Edition.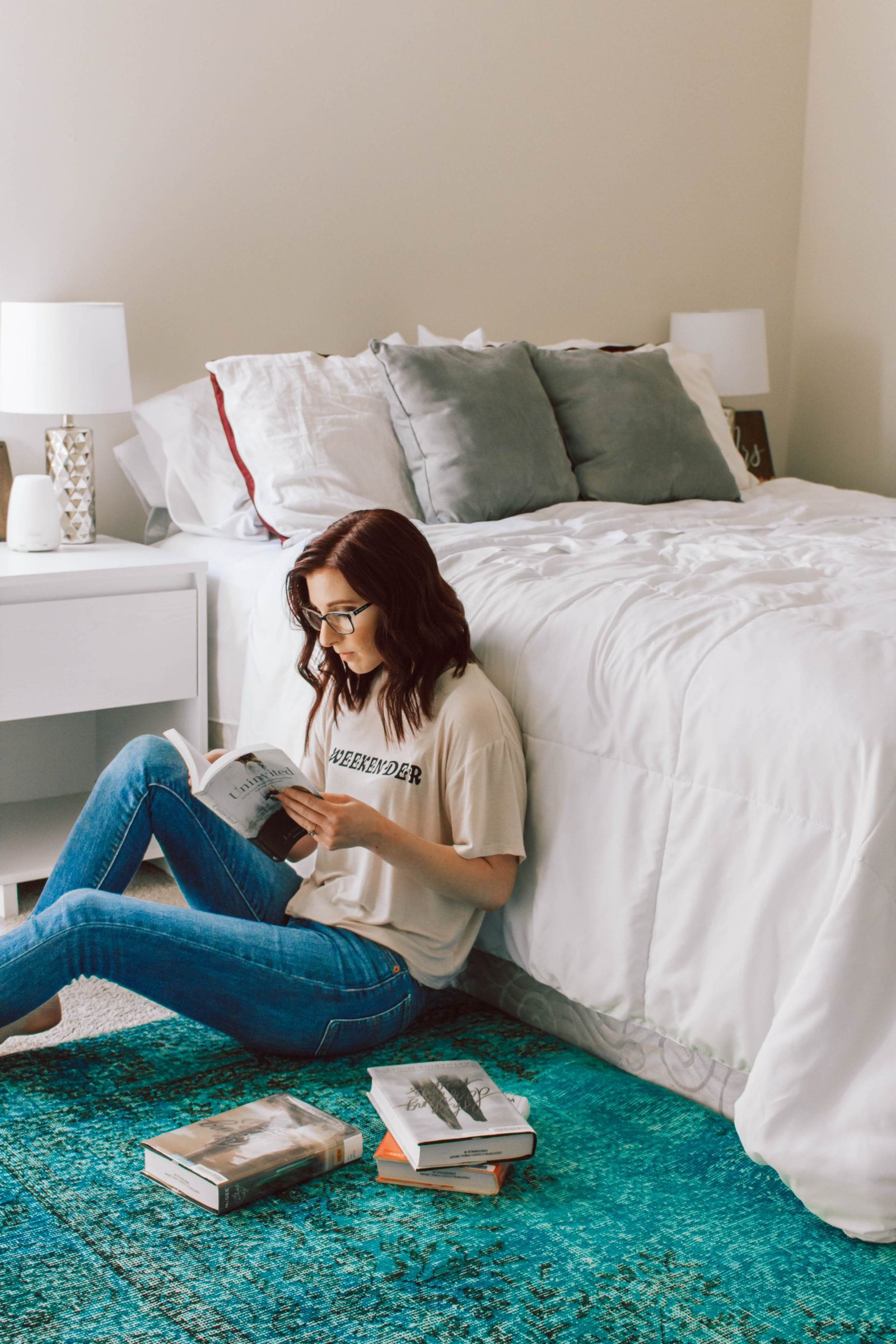 The right rug can be hard to find, but I always believe it should be the first item in a new space. It sets the mood for the decor!
I honestly thought I knew what I wanted our master bedroom to look and feel like – until I saw this rug on the Revival Rugs website! Brandon and I spent probably an hour looking through rug after rug until we decided on the teal and turquoise restored vintage rug, titled the "Jerick." I'd love to link it for you to purchase for yourself, however, since these are vintage rugs, there is only one of each! Honestly, I think that's pretty cool, because it means you're getting a rug that no one else owns, so it's unique to you and your space.
After deciding on this beautiful rug, we (*ahem*) I got to work, looking for the pieces to make our space exactly the way we like – modern bohemian. This was the exact vibe we worked towards in our living room, and we love how that turned out. It didn't come as too much of a surprise that our eyes were drawn to the teal/blue colors again and that we wanted to bring a similar atmosphere to our bedroom. You know what they say, these tones are the most relaxing and inviting! It's no wonder we want them flowing throughout our home.
---
shop the post

Now that we have the right rug, we can move forward with the decoration process.
I've put together an entire moodboard, focusing on the items we have on our master bedroom wishlist, and bringing in all the right colors and textures for this space. We don't have a huge room, but the "Jerick" from Revival Rugs sure made it feel more spacious with all its stunning vibrancy. It's the first thing that catches your eye when you walk up our stairs towards the room, and I love that about it.
We already had a couple of furniture pieces picked out, and we probably won't change too much about the bed, aside from adding colored pillows and maybe a throw blanket. The real additions will be artwork (hoping to hang wedding photos above the bed and our wood wedding signs above the television), curtains, and goodness knows I'd love an armchair in the corner to snuggle up in when I want to read!
Check out our moodboard + master bedroom wishlist

---
Related Posts
What constitutes as the "right rug" for your space?